1959,
Jacobus
Cornelis
Dorst
|
The
Netherlands
†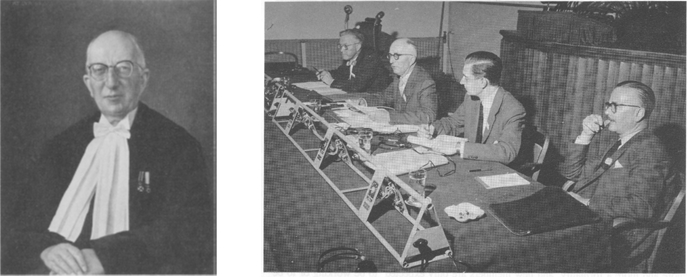 J.C. Dorst presiding the constituent assembly of EUCARPIA on
2 July 1959 in Wageningen

Jacobus Cornelis Dorst was born 19 July 1894 at Sint Annaland / Zeeland and died 10 January 1979 in Wageningen.
He completed his academic education at the Agricultural University Wageningen with a doctoral thesis on bud mutation of potato, supervised by the geneticist J.A. Honing. In 1919 he was appointed advisory officer for plant breeding in the province of Friesland and entrusted with the task of promoting the growing of high-quality seed and planting material. This implied also that efforts had to be made to obtain new varieties. He was particularly successful, because in 1925 already the potato variety Alpha was put on the market. Alpha was grown widely in many parts of world and is still listed in the European Union. Many other varieties followed and became an often international market success, such as cvs. Furore, Saskia and Sirtema. Another international success was his flax variety Concurrent. Dorst was indeed a gifted breeder.
Besides being a breeder, Dorst has contributed substantially to the institution of a national inspection service for seed and planting materials. In 1941 he was appointed professor of plant breeding at Wageningen Agricultural University and director of the Institute of Plant Breeding of the same university. He held these offices till 1962. A great number of his students obtained leading positions among breeders.
Dorst was the first director (1948-1957) of SVP (Foundation of Agricultural Plant Breeding) at Wageningen, and he took the first initiative in 1951, together with the late Dr H. de Haan, for the founding of a plant breeding journal, Euphytica. Its first issue appeared in 1952. Until 1963 Professor Dorst was president of the Editorial Board and later became honorary president.
We also know him as one of the promotors of our association. He was a leading figure in the preparatory committee, active since 1955, and became our first president at the constituent assembly and congress in 1956. Dorst suggested the fantasy name 'EUCARPIA' for the European Association for Research on Plant Breeding, and this became our official name by a board decision in 1957. At the General Congress in 1959, presidency was handed over to Wilhelm Rudorf and EUCARPIA nominated Jacobus Cornelis Dorst its second honorary president.
Compiled by Beat Boller on the basis of an obituary by J. Sneep and "Fourty Years of EUCARPIA"